OddBall was a Lightweight robot from Indiana which competed at the fourth LTRC event. All that is known about OddBall comes from a picture of its remains, and its stats on the Lazy Toad website.
It was likely a iron framed, invertable, two-wheeled, box-shaped robot with semi-exposed wheels, and a flat rear end which likely had plexiglass anti strand bumps. No pictures of the robot intact are known to exist, but it is known that it was a thwackbot.
Based on the rust patterns, OddBall likely had a blue, orange, and red color scheme. OddBall performed decently in competition, placing third out of the five bots in its field at RCG-303. Despite this the robot was promptly sold, and ultimately scrapped.
Robot History
Edit
OddBall was initially intended to compete at RCG-301. However it ultimately dropped out.
OddBall's first match at RCG-303 was against grabber, Pinchy. It lost this match, and was sent to the loser's bracket where it faced the horizontal flywheel of Amish Rebellion. It beat Amish Rebellion, and advanced to the loser's final where it faced Pinchy once more.
This time OddBall beat Pinchy, and was now in the consolation final where it faced Spear-It of Detroit. It lost this match, and was eliminated from the competition in third place.
OddBall - RESULTS
Robots in Winter
RCG-301
Dropped Out
In Like a Lion
RCG-303
Third Place
Semi-Finals
vs. Pinchy
Lost
Semi-Finals
vs. Amish Rebellion
Won
Loser's Final
vs. Pinchy
Won
Consolation Final
vs. Spear-It of Detroit
Eliminated
Wins/Losses
Edit
LTRC Record
Edit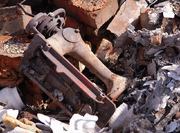 After RCG-303 OddBall was sold to a new owner, and OddBall was promptly parted out. As of 2018 all that is left of OddBall is its frame, which is slowly rusting away in an Indiana scrapyard.
Community content is available under
CC-BY-SA
unless otherwise noted.