Welcome to the Robot Combat Club & Grille Wiki
This is the encyclopedia about the RC&G, and its competitors, battles and teams, and is always growing. It also contains information on pages deemed relevant in terminology and sport of robotic combat. This wiki only covers RC&G, and as such does not provide detailed information or images from Robot Wars, Robotica, BattleBots, RoboGames or other such competitions.
Featured Article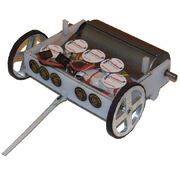 3pd (short for 3 pound drum) was a Beetleweight robot built by Team Ti Joe that competed in all the LTRC events except for RCG-212. It was a white, two-wheeled, invertible, box-shaped robot armed with a spinning drum. Despite losing both of its matches in its debut event, 3pd did very well in competition, wining the beetleweight division in RCG-304, and never failing to make the finals in the events after its debut. More...
About
Robot Club & Grille was a resturaunt operated by Fuzzy Mauldin of BattleBots fame which operated during the early 2000's before closing due to lack of attendance. At it's peak it hosted multiple robot combat matches over multiple weight classes, and even hosted a Robot Combat Museum. This wiki is about the competitors, teams, the resturaunt, andof course the robots.
Latest activity
Photos and videos are a great way to add visuals to your wiki. Find videos about your topic by exploring Fandom's Video Library.