Welcome to the Robot Combat Club & Grille Wiki
This is the encyclopedia about the RC&G, and its competitors, battles and teams, and is always growing. It also contains information on pages deemed relevant in terminology and sport of robotic combat. This wiki only covers RC&G, and as such does not provide detailed information or images from Robot Wars, Robotica, BattleBots, RoboGames or other such competitions.
Featured Article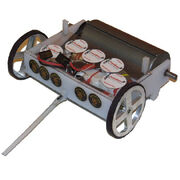 3pd (short for 3 pound drum) was a Beetleweight robot built by Team Ti Joe that competed in all the LTRC events except for RCG-212. It was a white, two-wheeled, invertible, box-shaped robot armed with a spinning drum. Despite losing both of its matches in its debut event, 3pd did very well in competition, wining the beetleweight division in RCG-304, and never failing to make the finals in the events after its debut.
More...
Describe your topic
Write a description about your topic. Let your readers know what your topic is about and add some general information about it.
Latest activity
Photos and videos are a great way to add visuals to your wiki. Find videos about your topic by exploring Fandom's Video Library.
Community content is available under
CC-BY-SA
unless otherwise noted.